Contemporary Spain and Europe
[caption id="attachment_4107" align="alignright" width="300"]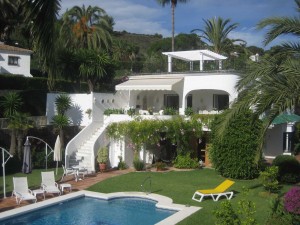 Las Brisas[/caption] The European Union doesn't always get a favourable press, especially over the past year. For Spain and Spaniards, however, membership of this melting pot of nations is almost universally considered to be a positive initiative, partly because it helped ease the country's transformation from pre-1975 dictatorship to a thriving, progressive democracy but also because it is home to a huge community of expatriates who benefit from close pan-European legal and administrative ties. On the Costa del Sol, for example, depending on the time of the year, the number of non-Spaniard residents is not far short of the "native" population – and that is without taking into account the millions of annual tourists. Another important factor in Spain's positive view of the "European brand" is that, with some minor exceptions, all the mainstream political parties and most of the major non-parliamentary institutions earnestly support membership. [caption id="attachment_4110" align="alignleft" width="150"]
Nagüeles[/caption] [caption id="attachment_4108" align="alignleft" width="150"]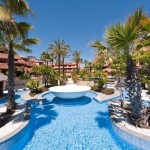 Estepona[/caption] Tomorrow (1 January 2016) marks the 30th anniversary of when Spain and Portugal officially became members of the then European Economic Community. They were the 10th and 11th countries to join the EEC, and now the European Union has 28 members, with six others officially recognised as candidates and two more as potential candidates. So what has Spain's role as a key EU member meant over the past three decades? Coinciding with the anniversary, the European Parliament's office in Madrid highlighted 30 reasons why the EU has been advantageous for Spain. We don't have the space here to outline all 30, but to summarise… Many analysts over the years have referred to Spain's fledgling EU membership as the Marshall Plan it never had, an important initiative for its ongoing development. In 1986, Spain's per capital income was 72 per cent of the EEC average (12 countries); today it is 94 per cent (28 EU members). After being a significant recipient of infrastructure funds in the early years (and an overall total of 150 billion from 1986 to 2015), Spain has now become a net contributor to other countries' development funds. [caption id="attachment_4112" align="alignright" width="150"]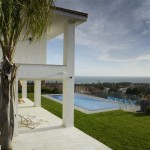 Cabopino[/caption] [caption id="attachment_4111" align="alignright" width="150"]
Benalmádena[/caption] Thirty years ago, the average life expectancy of Spain's 38.3 million citizens was 76.4; today 46.5 million Spaniards have one of the longest average life expectancies in Europe (83.2 years). In its report, the EU's Spain office asked, "What have been the benefits of EU membership?" And the answer (among others): advances in breast cancer research, improved food labelling, promotion of organic agriculture, protection for air travellers and internet consumers, defence of natural spaces, 14,000 kilometres of highways co-financed by European funds, a high-speed railway network criss-crossing Spain, and increasingly effective cross-border anti-terrorist cooperation. In short, a root-to-branch modernisation of Spain that has consolidated its position as the fifth most populous and economically potent country in Europe. To commemorate this milestone for Spain, we take a tour along the coast, showcasing a varied portfolio of properties in areas noted (and popular) for their multi-cultural diversity. [caption id="attachment_4113" align="alignright" width="300"]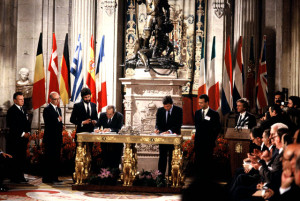 Spain formally joins the EU[/caption]
Special Selections
We appreciate your taking the time to read about these exceptional properties, but perhaps they are not exactly right for you? If not, we invite you to have a look at our other special selections for:
La Zagaleta
,
Luxury Villas
,
Golf Properties
,
Seafront Properties
,
Apartments
and
Special Offers
. Click on the category of your choice and follow the link. Also please feel free to roam around our website:
www.villamarbellanow.com
.