Clean and Healthy Living on the Costa del Sol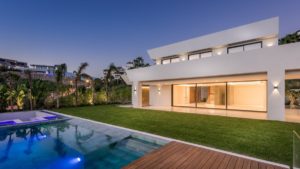 "Lung-cleansing" is one of the new catchphrases for people seeking a more healthy lifestyle – and there are fewer destinations in the world more attuned to wellbeing than the Costa del Sol.
As Taylor Woodrow notes, "Air pollution in the U.K. has become a catastrophic invisible killer, so it's no wonder that 2018 is all about clean breathing, with the Global Wellness Summit revealing that people are looking for ways to have cleaner environmental practices, by choosing 'lung-cleansing' travel destinations for instance." In line with this healthier behaviour, adds the leading Spanish home builder, "Brits buying second homes overseas to relocate or retire to are choosing healthier environments. The Iberian Peninsula is the ideal destination for that, with the 2017 World Happiness Report ranking Spain as one of the top five countries where people live the longest.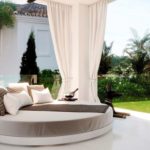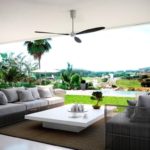 "Experts remind that clean air is fundamental as air pollution is often associated with reduced life expectancy. A recent study conducted by Málaga Council revealed that residents can breathe good-quality air in 95 per cent of the city."
So, if air quality is that impressive in a city of half a million or so people, clearly levels in other smaller urban areas along the Costa del Sol, and especially in the inland mountain areas, must be even better.
Estepona, for example, is one municipality that has made a firm commitment to creating green spaces, an achievement recognised this week with an official visit by members of the Costa Press Club, who were welcomed by the mayor, José María García Urbano, and the inauguration in Estepona of the 2018 National Public Parks and Gardens Congress.
Club members were able to see first-hand how the town hall has transformed the historic centre in recent years with a beautification project involving adorning dull walls with murals, planting as many as one million flowers, sponsoring trees planted by local children, providing dozens of streets with colourful hanging flowerpots and introducing considerable pedestrianisation. They were also invited on a tour of Estepona's enchanting Orchidarium.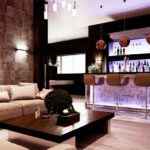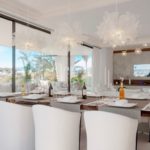 As for the congress, during the inauguration ceremony, García Urbano noted that Estepona had been promoting itself as "The Costa del Sol Garden" since 2012 and its new objective was for the municipality to become the Costa del Sol's "orchard". The town's pioneering green initiatives had, he said, both boosted its modernisation and improved residents' standard of living. One hundred streets had been renovated, representing nearly five hectares of urban land; the municipality's public green areas had been expanded by 25 per cent, increasing from 500,000 to 700,000 square metres; and the overall quality of the tree and floral plantations, diversity of species and general ongoing maintenance had been significantly upgraded. "This has transformed our streets into a real orchard," he said, adding that the town would be further enhanced in the lead up to summer with the installation of 20,000 additional flowerpots.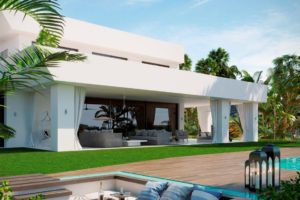 Luxury Living
For those wanting to enjoy the Costa del Sol's incomparable quality of life, this stunning luxury villa in La Alquería - at the eastern end of the "New Golden Mile" between Estepona and Marbella - is excellently priced at €2,550,000.
Exceptional Homes
We appreciate your taking the time to read about this outstanding property, but perhaps it is not exactly right for you? If not, we invite you to have a look at our other stunning selections for:
Luxury Villas
,
Apartments
,
Golf Properties
,
Seafront Properties
,
La Zagaleta
and
Special Offers
. Simply click on the category of your choice and follow the link. Also please feel free to roam around our website:
www.villamarbellanow.com