All that glitters is… titanium, sapphires and diamonds
[caption id="attachment_995" align="alignright" width="300"]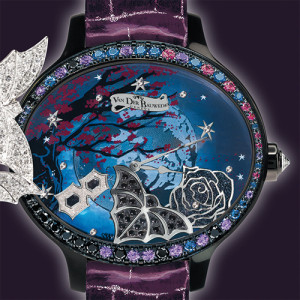 Van der Bauwede Twilight[/caption] The Baselworld luxury watch and jewellery show concluded this week after presenting a sparkling showcase of cutting-edge creativity and innovation. Combining Swiss excellence with the ultimate in refined elegance, both mechanical and quartz, the 2014 show featured a higher number of timepieces imagined especially with women in mind; while the watches on show also highlighted a trend among prestige brands to include affordable styles in their collections aimed at appealing to the emerging markets' fast-growing middle and upper classes. Here we shine the spotlight on five of the haute horlogerie models that caught our eye in the Swiss city… [caption id="attachment_1003" align="alignleft" width="300"]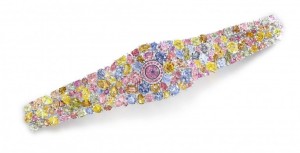 Graff Hallucination[/caption] GRAFF HALLUCINATION: Arguably the star of the show was Graff Diamonds' Hallucination model. Glistening with a kaleidoscope of colourful diamonds totalling 110 carats, meticulously selected by Graff's designers, gemologists and master craftsmen, the watch was billed as the world's most expensive timepiece – with a stratospheric price tag of €40 million. "For many years I have thought about creating a truly remarkable watch that illustrates our all-consuming passion for diamonds," said Laurence Graff, chairman of Graff Diamonds. "The Hallucination has made my diamond dream a reality… (It) is a sculptural masterpiece; a celebration of the miracle of coloured diamonds." VAN DER BAUWEDE TWILIGHT: This glamorous and avant-garde collection is highlighted by a white gold ring with a stunning and bold design captured by a tanzanite weighing 12.95 carats and 198 white diamonds. The watch is resplendent with its own "Twilight" scene in an explosion of black, purple, blue and pink sapphires. [caption id="attachment_1011" align="alignleft" width="150"]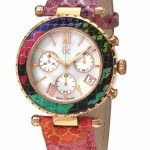 Gc Rainbow Python[/caption] GC RAINBOW PYTHON: The Brazilian rainforest comes to colourful life in this new Gc model, enabling fashion-conscious women to dress their wrist in vibrant tropical shades with a sophisticated calfskin strap in a distinctive python pattern. White mother-of-pearl lends a touch of iridescent softness to the dial, and the watch's precious appearance is further enhanced by a rose gold PVD treatment of the hour-markers and case. [caption id="attachment_1025" align="alignright" width="150"]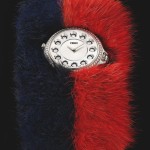 Fendi Crazy Carats[/caption] FENDI CRAZY CARATS: Fendi takes fur into new territory with this timepiece fitted with a precious strap in two-tone mink. The watch itself features several sparkling surprises: a turn of the crown reveals three different types of gemstones according to the mood of the moment; and white diamonds or blue or pink sapphires alternately light up the luxurious composition. The Crazy Carats comes in four different versions, each available in a 50-piece limited series.
[caption id="attachment_1015" align="alignleft" width="150"]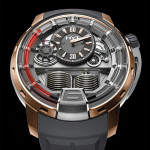 HYT Red2[/caption] HYT H1 RED2: Recognised as the first ever wristwatch to show time using a liquid, the H1 returns with a new red fluid, following a year of research and development. Stored in a reservoir under the dome at 6 o'clock, the liquid advances through a capillary as the hours go by, then returns to its initial position in a retrograde movement after completing one circuit of the dial. [caption id="attachment_991" align="alignright" width="300"]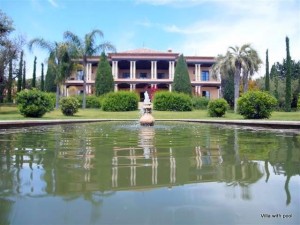 Glittering luxury on the Golden Mile
[/caption] Marbella, of course, is another European city (like Basel) renowned as a global capital of luxury and this sumptuous villa – located on the Golden Mile, between Puerto Banús and the bustling town centre – is perfectly placed for those seeking out boutiques offering the top brands in watches, jewellery and fashion. Click
here
to see more.