New Lamborghini redefines sports car experience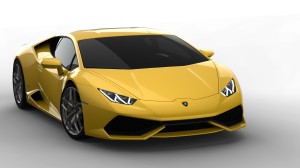 It was always going to be difficult to follow up the Gallardo. With a total volume of 14,022 cars produced during a 10-year cycle, it became the most successful model in Lamborghini's stellar history. Now, committed to setting a new benchmark for luxury super sports cars, the Italian marque has unveiled its successor, the Huracán LP 610-4 – "combining absolute performance with easy-to-drive road behaviour and both luxurious and sport-oriented finish". Developed from scratch down to the very last detail the Huracán, like the Gallardo and most other Lamborghini models, derives its name from the world of bullfighting. Known for his outstanding courage and strong sense of attack, the fighting bull Huracán of the Spanish Conte de la Patilla breed fought in Alicante in August 1879 where, according to Lamborghini, he showed his "unrelenting character and remained defiant and invincible, thus entering into the legend of fighting bulls' history". In their quest to give the motoring version of Huracán its own place in history, Lamborghini's engineers and designers have aimed to revolutionise the design language and pure lines of the Gallardo: "precise technology and top level craftsmanship meet an audacious design with sharp edges, monolithic and sculptured volumes, and precise surfaces".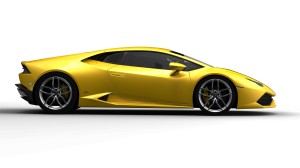 The new 5.2 litre V10 engine delivers maximum power of 448 kW/610 HP at 8,250 rpm and maximum torque of 560 Nm at 6.500 rpm; while the top speed of over 325 km/h and the acceleration from 0 to 100 km/h in 3.2 seconds and to 200 km/h in 9.9 seconds underlines the Huracán's dynamic experience at the wheel. The combined EU consumption figure has been reduced to 12.5 litres per 100 kilometres (290 g/km CO2 emissions), and the engine complies with EU6 emissions regulation. The power of the V10 engine is brought to the road via the new seven-speed dual-clutch transmission ''Lamborghini Doppia Frizione'' (LDF) and fully electronically controlled four-wheel drive system. Inside, the innovative cockpit features a 12.3-inch full-colour TFT instrument panel that delivers all car information to the driver, from rev counter to navigation maps and infotainment functions, and can be configured in different setups. Fine Nappa leather and Alcantara distinguish the interior, with several colour combinations offered to ensure broad individualisation options. Defined by one line that merges the front with the cockpit and the rear of the car, the Huracán's silhouette is highlighted by lateral windows that come together to create a hexagonal form inserted like a glass jewel in the car's profile. By night the new model is unmistakably a Lamborghini: the main headlamps are equipped with full LED illumination, and all other light functions also feature state-of-the-art LED technology as a standard feature for the first time in the segment. [caption id="attachment_811" align="alignleft" width="300"]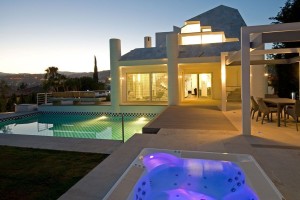 Stunning Puerto Banús setting
[/caption] After receiving the keys to your new Lamborghini Huracán the next step is to find a villa with ample (and secure) garage space for a Lamborghini, your partner's Porsche Cayenne and the visiting house-guest's Jaguar – and an attractive starting point for a pleasant drive into the mountains or along the coast. Like this villa in Puerto Banús… Only a few minutes from the beach and the glamorous port resort, the home was commissioned by the owners and designed in 1987 by Angel Taborda, an architect renowned for his imaginative and ground-breaking concepts. It offers a bold alternative to the customary Andalucian-style architecture of the area, and recently underwent a major refurbishment programme to convert it into a house for all-year-round living, with superb quality finishes throughout. Extending over 473 square metres of built area, on a 1,100 square metre plot, the property comprises six bedrooms and six bathrooms, including two master suites covering the entire upper floor – one with an enormous terrace overlooking the Mediterranean and Gibraltar. The ground floor is an elegant open-plan living and dining area with an ultra-modern kitchen, and there is also a guest suite and cloakroom on this level. Downstairs there are two guest suites, a staff apartment, steam and shower rooms, a games area and a living area; while outside the pool is surrounded by wood decking with LED lighting, pergola, sunken jacuzzi and barbecue area with outside kitchen – all set in established gardens. The garage has parking for two cars, and there are four additional parking bays. Click
here
to see more.