Showpiece Homes and Luxury Living… Los Monteros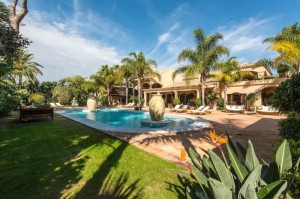 He was born in Málaga city, he had settled in the US and become a Hollywood star, his wife was pregnant and they were looking to buy a holiday home on the Costa del Sol. The question was, where? For Antonio Banderas and Melanie Griffith the decision was reached after weighing the pros and cons of several key factors  – as it had for so many other international couples before them. Climate: having spent his childhood in Málaga, Banderas needed no convincing of the merits of the Coast's sublime Mediterranean weather. Travel: jet-setters in the true sense of the word, they needed convenient connections between Europe and the US. Security: with the Coast's tenacious paparazzo ever-present at the slightest sniff of a celebrity visit, privacy was paramount. Setting: ideally, walking distance from the beach, in a relatively tranquil location, with as much natural vegetation as possible, and just a short drive from major leisure and social amenities – as well as Málaga's international airport and his family in Málaga.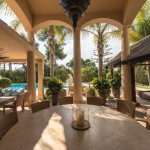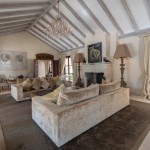 Price was obviously not an issue – although everyone likes a good deal (and the Costa del Sol has always ticked that box) – and neither would money be a concern for most visiting friends and colleagues, so close proximity to an appropriately luxurious hotel would be an added advantage. In their case, there was also one other major consideration. They expected to be on the Coast when Melanie gave birth so good hospital options, with maternity specialists, were essential. This was early 1996, and just three years previously the Hospital Costa del Sol (today considered one of Spain's best) had been inaugurated on the main highway seven kilometres east of Marbella centre. Well before then (in 1962), just across the road from where the hospital was later to be built, the Los Monteros hotel had been opened – and in the intervening years this iconic Marbella establishment welcomed such illustrious guests as Sean Connery, Michael Jackson and Julio Iglesias. Last year, during the Starlite Festival, and specifically the Spanish pre-premiere of the action film The Expendables 3 (which co-starred Banderas), Sylvester Stallone and his family and other leading actors in the movie stayed at the Los Monteros.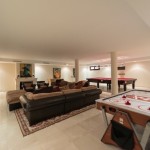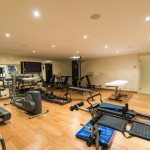 So two more boxes were ticked, and the decision was made. A villa ("La Gaviota") owned by the heiress of radio presenter Encarna Sánchez had just come onto the market, a frontline beach location in the Los Monteros urbanisation. It was perfect for the Banderas-Griffith family Following his recent purchase of a penthouse in Málaga city – not far from Pablo Picasso's birthplace – Banderas has reportedly been considering selling the Marbella villa (which has now lost part of its beachside extension due to a long-standing legal issue with Marbella Town Hall and construction of a new promenade in the area) but if he does decide to keep it as a holiday home, Villa Marbella Now are pleased to report we have several other excellent property options in Los Monteros. This south-facing villa, for example, located in a prime beachfront position on an 8,000 square metre plot… The property is accessed via antique wooden doors, entering into a hall featuring a cupola, galleried sitting room with fireplace, TV room, dining room, large kitchen with a full range of Miele appliances, guest cloakroom, gym/billiards room, office with bathroom, and a terrace providing ample seating and dining areas. The upper floor comprises a master bedroom and en suite bathroom with jacuzzi, and a large terrace and four further bedroom suites, all with Italian marble bathrooms. The villa also includes separate staff quarters, while the verdant garden has a full-size tennis court, swimming pool, fruit orchard and self-contained pool house.
Special Selections
We appreciate your taking the time to read about this exceptional property, but perhaps it's not exactly right for you? If not, we invite you to have a look at our other special selections for:
La Zagaleta
,
Luxury Villas
,
Golf Properties
,
Seafront Properties
,
Apartments
and
Special Offers
. Click on the category of your choice and follow the link. Also please feel free to roam around our website:
www.villamarbellanow.com
.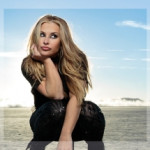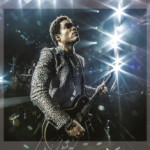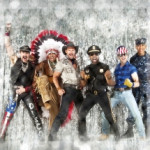 Meanwhile, the names have been revealed of several international performers already confirmed for the concert schedule at this year's Starlite Festival, running from 18 July to 22 August. They include Anastacia, Lenny Kravitz, the Village People, Lionel Richie, Roger Hodgson and Andrea Bocelli.