Showpiece Homes and Luxury Living… Golden Mile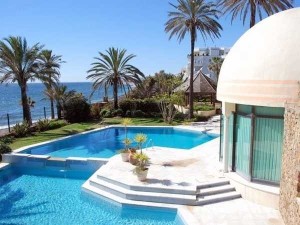 In recent years a resurgent Marbella has re-established its pre-eminence as Spain's capital of glamour. A few years ago, the crown had slipped slightly, shaken by the municipality's well-publicised woes with a notorious former mayor and the advent of a crippling global and national Spanish crisis – but that is now well in the past. Financial experts analysing the last few difficult years tend to agree that Marbella was one of the first major areas in Spain to suffer the effects of the economic meltdown, at least partly attributable to the aforementioned political travails although also as a result of the general bursting of the property bubble. The good news is that now they see clear signs that Marbella is one of the first to be bouncing back, especially in the high-end property market. And certainly when it comes to holding a spectacular high-society fiesta, chic boutique inauguration or (one of the things Marbella does best) glittering charity gala event… [caption id="attachment_3387" align="alignright" width="200"]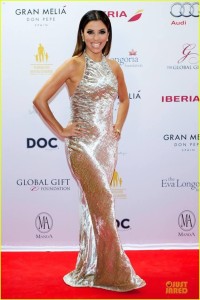 Eva Longoria (Global Gift Foundation)[/caption] This year's summer soirée season has already got off to a glittering start and the fun – and, most importantly, the philanthropic generosity – truly goes centre-stage next week with the Global Gift Weekend on 4 and 5 July. Organised by María Bravo and Alina Peralta (co-founders of the international Global Gift Foundation), the weekend highlights include a charity golf event at La Quinta Golf & Country Club, presented by actor Amaury Nolasco (Prison Break), and a gala dinner where Eva Longoria will once again be the honorary hostess, accompanied by other celebrity guests including actress Eva LaRue (CSI Miami), with performances by, among other artists, Taboo (Black Eyes Peas) and the dinner prepared by Michelin-star chefs Diego Guerrero (Dstage) and Diego del Río (El Lago). The gala that concludes one of the most glamorous weekends on the Marbella social calendar will be at Gran Meliá Don Pepe, which just happens to be at the eastern end of, arguably, the municipality's most famous stretch – the Golden Mile. Actually just over six kilometres, the "Mile" extends from the edge of Marbella's town centre to the entrance to Puerto Banús and Nueva Andalucía. Along the way it is home to some of the most ultra-select properties in southern Spain, luxury villas and sprawling estates on both sides of the main road – some offering spectacular sea views, others with picturesque mountain backdrops. The exclusive beachside residential developments include Alhambra del Mar, La Alcazaba and Santa Margarita, while showpiece urbanisations on the mountain side include Sierra Blanca, Nagüeles, and Cascada de Camoján.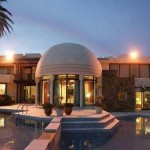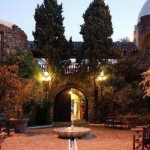 In addition to the Don Pepe, two other landmark hotels sit right in the heart of the Golden Mile: the Marbella Club, whose aristocratic origins date to half a century ago; and the Puente Romano, with its superb leisure amenities including a tennis club that has hosted top international tournaments. Across the road is a sumptuous palace and statuesque mosque built as a European summer holiday retreat for the late King Fahd of Saudi Arabia. One private property where the king's heirs – and any other royal family for that matter – would feel completely at home is the palatial residence featured here. It was in fact built in the early-eighties for a Saudi royal family, then partially refurbished by the current owner since 1997. A highly coveted luxury mansion in the top bracket of beachside properties on the Costa del Sol, it features a unique architecture and stonework, and enjoys uninterrupted views over the sea and Puerto Banús from its frontline beach setting. The property is accessed by two sets of double gates and gate-houses serving as separate apartments via a large courtyard with a fountain and gardens. Inside are nine bedrooms with en suite bathrooms, as well as a main reception room, large open-plan lounge area, seating room with bar, music room, formal dining room, playing room with sauna area, professionally fitted kitchen and exterior summer dining area with pergola and barbecue.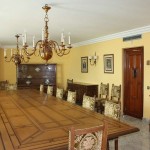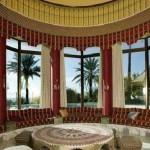 Other features include three guest bungalows, staff quarters, four private garages, and direct beach access from a mature garden area with automatic irrigation and an elegant split-level swimming pool for adults and children. Quite simply… an architectural and residential gem.
Special Selections
We appreciate your taking the time to read about this one-of-a-kind property, but perhaps it's not exactly right for you? If not, we invite you to have a look at our other special selections for:
La Zagaleta
,
Luxury Villas
,
Golf Properties
,
Seafront Properties
,
Apartments
and
Special Offers
. Click on the category of your choice and follow the link. Also please feel free to roam around our website:
www.villamarbellanow.com
.